Show Results and other tidbits
Luke and Me after our second day of classes.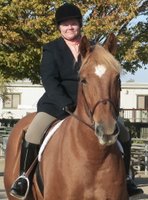 We placed 5th and 6th in our classes on Saturday; we didn't place on Sunday. BUT, we had a great time. There were several ponies who were not happy and spooked in the indoor warmup arena and although he spun and tried to be scared, we regained our composure quickly. In the ring, we tried to assist the photographer, so we missed doing a circle where we were supposed to, but I had a GREAT TIME.
Luke and Heather also did well, getting three seconds, and a fourth. They also fell. Everyone is ok, just bruised pride in my noble steed. The photos from the show photographer are not posted on her website yet, but when they become available, I will post you the link. Luke and Heather were the Photo of the Day on Wednesday. It is a beautiful photo.
We are home now, getting ready for our Open House at work on Thursday. More later.