I LEARNED so much
For those of you who asked, yes, I am fine. Just took me a couple of days to get the clinic update posted.
Here is some of what I learned. (Ok, some of it I knew, but it somehow clicked this time)
1. Horseback riding is a partnership and you can't just go along for the ride.
2. One partner always has to be in control, but it is not always the same partner.
3. Horses are very smart and also lazy, well at least mine is, and they will take any excuse to quit doing something they don't like. The key is to know when it is an excuse and when it is mean.
4. Whatever I focus on, my horse will too. So it is my job to focus on the job at hand, not everything else going on.
5. I have some really cool friends.
6 It is a blast to listen to other people's stories of riding.
7. It is all mental and you just have to want it. (Now, to determine what it is).
Here is Luke standing in his "room" for the weekend. Taken Sunday morning from the front porch of the house where we stayed. I guess I wore him out on Saturday.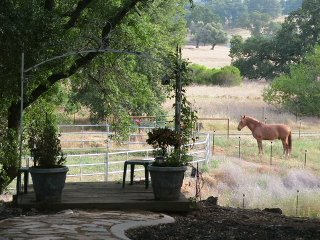 My back actually did ok. I quit riding a bit earlier than everyone else on Saturday to save it for Sunday, so I missed the egg relay. The other "bad" part of riding the entire day, is that I only got a couple of photos.