ROAD TRIP!
Author's note: Due to technical difficulties, this entry was delayed.
Well, half a road trip.
About ten days ago, we found out that Amanda needs to be in AZ on Tuesday and I wanted to go too. Having become accustomed to flying when I want to get somewhere farther than four hours away, I decide we should fly. I check airfares. OUCH! $210 each way for each of us. OK, I can drive, pay for gas and pay myself a salary for that amount of moola. So, we decide we are going to drive.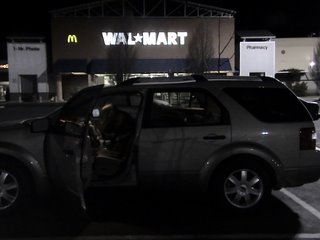 I talk with my boss about taking a week off. Guess what! He has a car in California and a closet full of "stuff" that he needs to get to AZ. He was going to take it in March. Would I like to take the car down and fly back? Uh, let's see. Drive the boss' car; stay at the boss' house; not have to take three days of vacation and fly on his miles that are going to expire. Yep!! Win, Win for both parties.
I went and picked up the car today and packed an entire closet into the back of a Ford Freestyle. Hubby and Boss both think I should have taped it and sent it to Ford. They have never seen so much stuff put in a car and still have room for people to travel safely. (Thanks for handing down that talent, Dad.)