Not ready to graduate
but, progressing well. The PUNK. Nothing like your "children" knowing what buttons to push to set you off, is there?
Well, after two days of Boot Camp and being confined to a stall, with a small turnout, Luke is behaving like the gentleman he can and should be.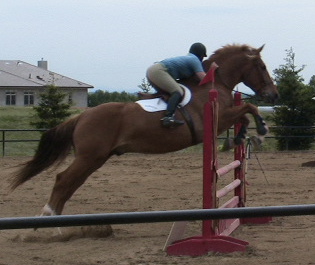 This is Luke and Heather in the 3' class. He got fourth. In his last class, he knocked a rail on the next to the last fence, but placed second his other earlier class. More importantly, he was good, well-mannered and everyone wanted to know why I was so mad at him.
Sure knows how to "shine" when the spotlight is on him.
Looking forward to getting back in the saddle.
Labels: Luke and Heather at SV